Hey Friend,
Happy August! School is about to start!
Got kids in pre-school? Kids in elementary? Kids starting high school? Maybe you have kids you're packing up to go to college. From a virus perspective, it doesn't matter too much how old your kids are. There isn't any difference between the illnesses that a 7-year old or a 22-year old gets. All the remedies and information here will work for parents of any age person, but I wanted to especially support those parents and students heading to college.
There are some key situational differences for kids in college:
1.  College kids are on their own, away from the care they would get at home.
2. Hectic schedules and a late night lifestyle can run immune systems down and can lead to lingering minor illnesses that prevent them from going to class and keeping up with their work.
3. The stress of a new living and social environment can cause old or chronic symptoms to show up.

What to do? A college-bound wellness package: supplements & homeopathy
This is a photo of the box I sent both my kids with when they went to college. It has a variety of wellness support, as well as a book on using homeopathy. My son told me, "Whenever I started to feel sick, I took all my immune support, stayed in bed for a day watching Netflix, and then I'd be fine. Everyone else would be sick for ages. Thanks Mom!" Here's what's in my wellness box.
SUPPLEMENTS
Vitamin C – 1000-3000 mg; 2-3 times a day when sick

Vitamin D – 2000 IU per day to stay well

V Clear – lessens the length of colds by several days

Wellness Formula – contains many supportive vitamins

NAC – precursor to glutathione, the master antioxidant

Kick Ass Immune – herbal immune formula

Manuka honey – many anti-viral properties
I also like to add different herbal teas like Sleepytime and Throat Coat, Ricola throat lozenges and Benadryl. I've made a Wellness Protocol on Fullscript that has most of these products in one place with a 20% discount.
HOMEOPATHY
The homeopathy kit I like is the Home Remedy Kit from Hahnemann Labs. 
It has the main remedies for sore throats, the flu, urinary tract infections, fever, stomach problems, coughs, colds, food poisoning, and injuries. 
Your student will need a way to understand homeopathy and figure out what remedy to take. Here are some ideas:
1. They can call you, and you can advise them.
2. Download my Guide to the Hahnemann Home Remedy Kit.
3. Send them with a home use homeopathy book. I recommend this one.
4. Watch my introductory webinar on homeopathy.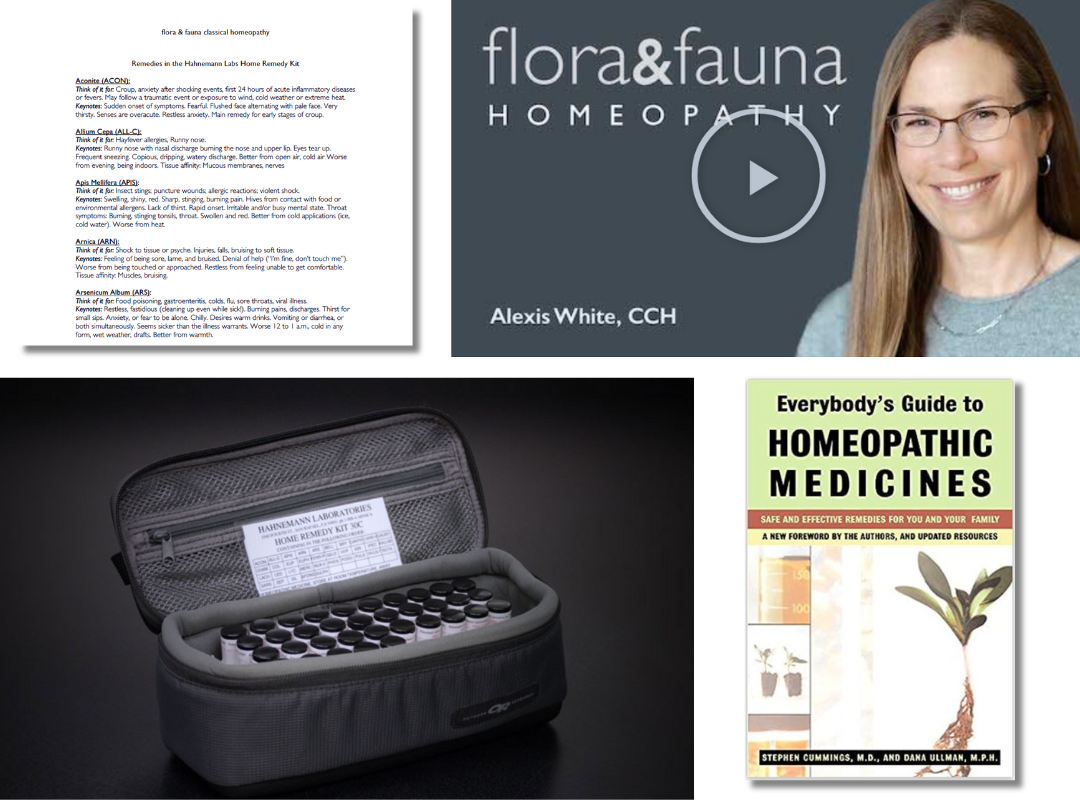 SOME KIT HIGHLIGHTS
Allium Cepa
Think of it for: Hayfever allergies, Runny nose.
A remedy I always think of first for seasonal allergies. You'll see a runny nose with copious, dripping, watery discharge. The discharge is acrid, making the nostrils and upper lip red and cracked. They eyes tear up and there's frequent sneezing. The allergies tend to be better from open air and worse from being indoors. 
Arsenicum Album
Think of it for: Food poisoning, influenza, stomach flu, viral illness.
I've treated many colds, flus and viruses with Arsenicum. It's also the number one remedy for food poisoning – think cafeteria food! It has so many uses, it's really an indispensable remedy.
Cantharis
Think of it for: Extreme burns; urinary tract infections.
Cantharis is our number one remedy for urinary tract infections. This remedy can be a life-saver for someone suffering from a really painful UTI. Additionally, Cantharis is fantastic for burns, I have personally seen 2nd degree burns rendered completely pain-free with one dose of this remedy.
Gelsemium
Think of it for: Influenza, anticipatory anxiety (stage fright).
Many situations at college will be first time experiences for our new college fledglings. Anticipatory anxiety can be an issue for anyone, and Gelsemium is a wonderful remedy for that. Additionally, it's one of the main remedies I use to treat the flu, when the symptoms match, of course.
Phosphorus
Think of it for: Coughs, colds, nose bleeds, stomach flu.
Phosphorus is useful for coughs that go to the chest and linger, as well as diarrhea and stomach upset. Nosebleeds are not as common in college-age children, but those who get them will be very happy to have a remedy on hand to stem the tide.
Rhus Toxicodendron
Think of it for: Poison oak, strains and sprains, influenza
An incredibly versatile remedy, Rhus-t is amazing for poison oak rashes, which can be a godsend when you're itchiness is out of control. It's also a wonderful remedy to help heal sprains and strains from athletics or just overdoing it. Finally, Rhus is a wonderful flu remedy, especially when you're achy and restless and just can't get comfortable.
There are 35 remedies in the Hahnemann Home Remedy Kit, so this is just the start! Send your college kid off with a great start!
Wishing you optimal health,
Alexis